Please keep in mind that this post is more than 3 years old. Opinions change. Tastes change. Everything changes. I may still agree with or like this, or I may not. But everything is kept up here for archival purposes.
I dropped Indri off at the bus yesterday afternoon. No offense to anyone who's ever visited me, but when I finally turned around to walk back to my place, I actually missed her. I don't usually miss weekend visitors once they finally leave. Quite the opposite. No matter how great they may be, I've been living alone long enough, and rely enough on my weekends to unwind, that visitors throw off my rhythm.I don't get to calm down. I don't get time alone to get my head straight.
But I did miss Indri.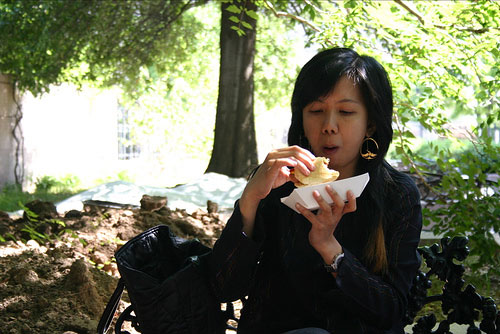 So yeah… it was a nice weekend. Just… fun. Nothing spectacular. But it was fun. And active. And … and I ate way too much, and didn't get enough sleep, really. (As attested to by my oversleeping this morning.) We saw dead people at the Holocaust museum and living things at the Botanical Garden. We finished off the weekend at the zoo, with lots of cute furry things and disgusting slimy things. And Indri rambles on and on, never at a loss for words, except when I said something incredibly stupid, at which point she stares at me like a dog who can't understand the crazy things humans do. But she's smart and she's cute, and she's nowhere near as innocent and sweet as she would have you believe. (Just look at her obsession with her own butt.)